HINGED BOXES PENNY BOXES LOOSE LID BOXES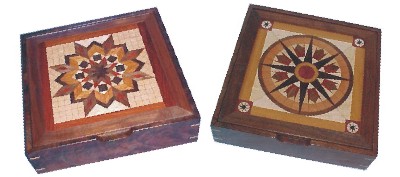 Thanks for visiting my web site.
In 1993, I retired from the US Air Force and built a small woodworking shop in Ada, Oklahoma. While serving in the Air Force, I collected wood samples from around the world. Combining my "retirement" free time, exotic hardwoods, and new workshop, I began designing and building small wooden boxes with intricate inlay designs.
You can see many of my designs by paging through the
My "hobby" has always been building handmade furniture.
The whole process of building furniture is intriguing. Conceiving a piece of furniture. Designing the best joints. Selecting the right pieces of wood. Cutting precise joints. Sanding the wood until it feels soft. Applying the oil finish and watching the grain jump out. And finally rubbing the wood smooth with wax until it's a joy to touch.
I've included a few pictures of my
In 1962, my uncle taught me how to cane chairs. My woodworking apprenticeship was restoring and caning old chairs. These old chairs date from around 1820 to 1900. I still have an addiction to buying old chairs and have many piled in storage. Occasionally, I even find time to restore one.
As I finish them, I'll add their photographs to the
I use the update page to highlight my most current projects and schedule.
I hope you enjoy looking through my web site.