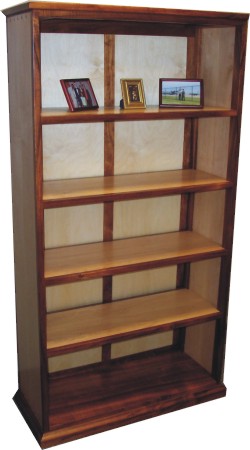 I have started building furniture again.
While serving in the Air Force I started designing and building furniture for my hobby. I planed to retire and start making handmade furniture for my second career. I did retire and build my woodworking shop, but as events unfolded, I started building the inlay boxes. The boxes were immediately an overwhelming success. I had orders for every box I could make, so I spent all my time building boxes.
In 2004, Jackie and I reached another milestone. Our youngest child graduated from high school; Jackie moved to a new midwifery position in Florida, and I kind of retired again. In my new retirement, I balance my woodworking time between building boxes and furniture. In 2005, I built ten pieces of furniture, and will probably build 6 to 12 more in 2006.
My furniture style combines clean lines and fine joinery with a smooth soft to the touch hand rubbed finish. I generally combine a light and dark wood to highlight the joinery. I usually incorporate fine hand cut dovetails into the design and construction. I always spend a lot of time hand sanding every piece. I then seal the wood with penetrating oil to highlight the grain and joinery. For the final finish I use traditional (not polyurethane) brushing varnish, rubbed smooth with paraffin oil and very fine steel wool. Finally, I apply and buff the furniture with hard paste wax.
On a typical piece of furniture I will spend about 1/3 of the time preparing the wood and cutting the joints, 1/3 of the time sanding the pieces, and 1/3 of the time applying and rubbing out the finish.
I build furniture slowly, by hand.
I have posted some pictures of completed furniture. All this furniture is sold, but I've include prices to give you and idea of costs. If you are interested in having me build a piece of furniture for you give me a call and we'll talk.
I will use the updates page to show work in progress.